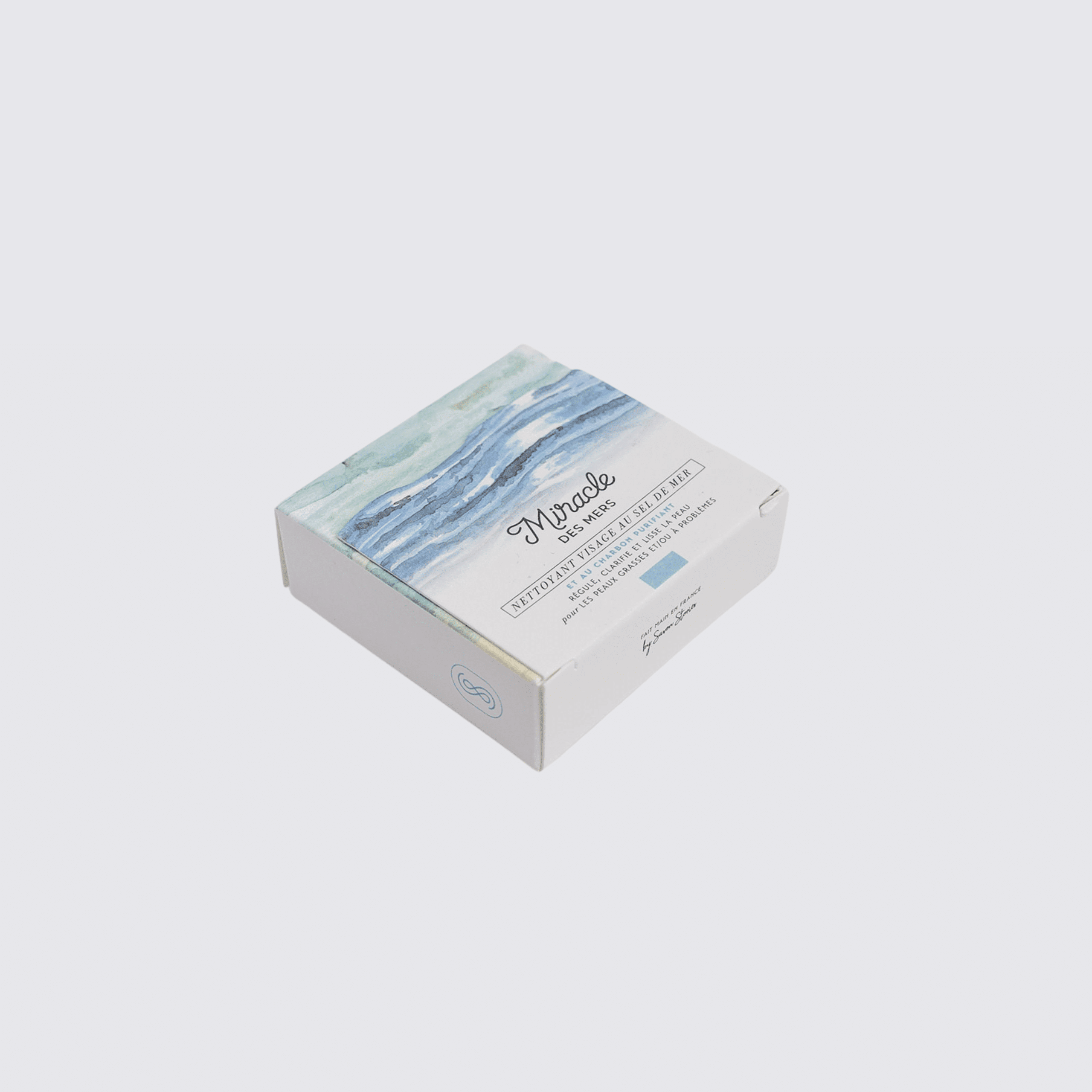 Miracle des Mers - oily, problem skin
Le Miracle des Mers is a cleansing and regulating solution based on unrefined sea salt. Ideal for purifying your face, it is expressly suitable for oily and acne-prone skin. The purifying and detoxifying properties of Miracle of the Seas are increased tenfold thanks to the essential oils of Bourbon Geranium, Neroli and Yuzu, bursting with repairing and protective antioxidants. Organic Avocado and Coconut oil combined with unrefined Shea butter ward off the external aggressions that sensitive skin has to face. These organic active ingredients nourish, protect and stimulate the renewal of epidermal cells. Acting like a real spa treatment thanks to its high content of wild sea salt, it offers the skin a deep cleansing by unclogging pores and reducing acne blemishes.
This sea salt soap also contains bamboo charcoal which rebalances the excess sebum of combination and oily skin and removes all the toxins accumulated on the skin. ✓ Block of 100% pure sea salt + vegetable oil soap. ✓ Deep detoxifier for problem skin. ✓ Leaves skin incredibly smooth. ✓ Handmade and cold saponified. ✓ Vegan and palm oil free.
Hyper efficace
Je l'utilise une à deux fois par semaines depuis presque un an et je suis très satisfaite de ce savon. Au début c'est assez étonnant parce qu'il mousse très peu, mais on s'y habitue. Je sens ma peau purifiée et tonifiée à chaque fois que je l'utilise et c'est très agréable comme sensation !
Miraculeux.
Il y a clairement un avant et un après utilisation du miracle des mers pour la peau de mon visage. Utilisé une à deux fois par semaine en complément avec le coco crème les autres jours, c'est le graal pour ma peau capricieuse. (Acné /peau mixte). Les formules sont très douces et les senteurs divines. Les bienfaits de la mer à la maison, une composition irréprochable. PÉPITE !